Submitted on Tue, 2 Feb 2021 - 12:45 PM
As far as I can tell from the news, the majority of those who are part of "Bad Student" [In Thai, "Nakrian Laeo," activist group of secondary students calling for both educational and broader political reform.-trans] and are spearheading the current protests against the educational system are from well-known schools.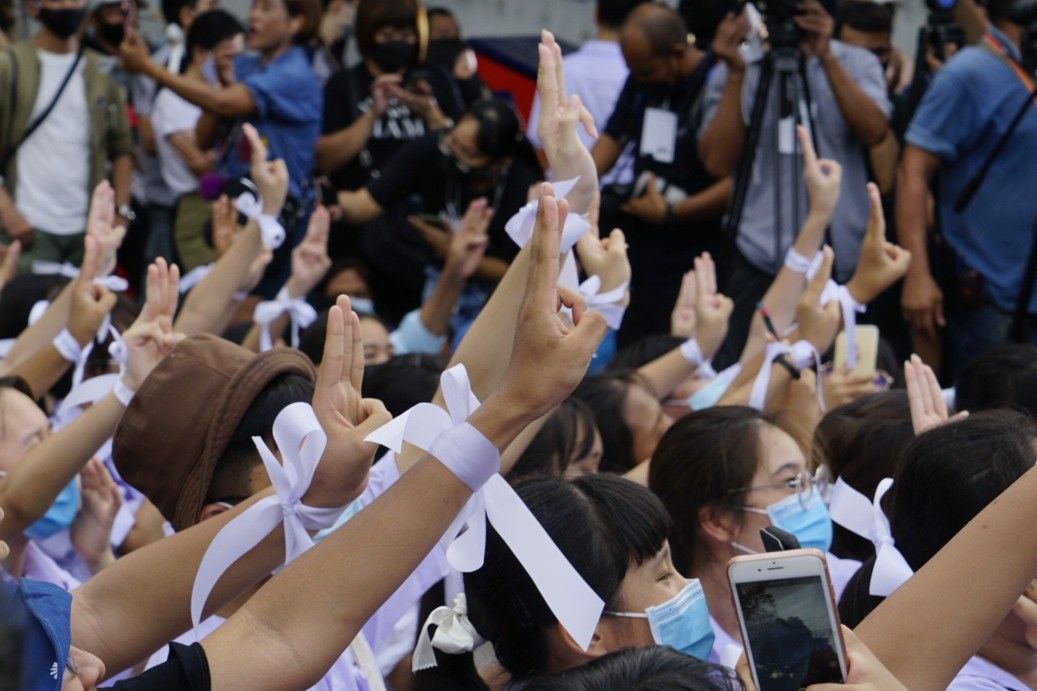 Students raising 3-finger salute during the protest in front of the Ministry of Education in September 2020.
These schools are well-equipped and have highly-educated faculty. Many accept students through competitive examinations, which means that the classrooms are mostly filled with "smart" students.
One of Bad Student's demands is to reform the quality of education. They put forward freedom as being at the core of a quality education. Freedom here includes freedom to think differently from one's teachers, freedom over one's own body, and freedom to search for answers (and questions) on one's own. They are calling for teachers to transform their role from telling them what knowledge to memorize to organizing the process of learning. For this reason, they also demand that teachers and schools be free from control by arbitrary power.
The demand of the movement that most impressed me is for every Thai child to be able to access quality education. This demand holds no matter if the child lives in a slum or a remote rural area and no matter if the child is rich or poor.
This is a consciousness of fraternity, which is an important consciousness to have within the nation. But we have never heard expressions of fraternity from the Thai ruling class.  In my view, a consciousness of fraternity — being for others rather than being for oneself or those already on one's side —is a good thing and is the kind of value we desire. We may have never seen such fraternity, but we know that it exists.
Freedom and equality which lack a foundation of fraternity are ultimately the freedom of the privileged and equality in which some are much more equal than others.
This consciousness is certainly not limited only to those in Bad Student. The movement of the masses of "Free People" draws on members of many groups. I have seen many clear demands based in fraternity. These demands have included demands to improve the public transportation system used by everyone and fighting against economic monopolies. For certain, the various symbols of privilege have grown very irritating, because the privilege of a few impacts on the well-being of a large number of people, including those who did not join the protests.
A large number of Thai philosophers have reduced the meaning of national fraternity to merely charity and generosity in the village. Certainly, the consciousness of mutual aid is an undeniable characteristic of the Thai village in the past (which is the same as the consciousness of mutual aid in the villages of many ethnic groups beyond Thailand). Clear testimonies of this have been made by both Thais ourselves and international explorers. But such consciousness is limited only to the village and networks of relatives, both real and imagined.
This can be called solidarity, but it is a solidarity of the village. This is a characteristic of village life that can be seen almost everywhere in the world because conditions of production, labor, society and culture force the emergence of such solidarity.
But fraternity of the nation is different from solidarity of the village. The nation is a community that arises within the imagination only. ​We think that there is a real community out there, even though we do not see the faces of the majority of the people in the community and do not have any direct or special relationships with them. But we and they remain members of the same community. A consciousness of fraternity within the nation therefore arises voluntarily without being forced by socioeconomic conditions.
Viewing fraternity within the nation from this perspective makes me think that the 2010 red shirt protests were an intriguing turning point. There were probably a great deal many more red shirts who did not join the protests in Bangkok. They supported the demonstrations by sending provisions and supplies to Bangkok so that their mothers, fathers, brothers and sisters could continue protesting.
Even in the protest sites, food provisions were divided into provincial tents. Demonstrators from a given "house" [which here meant province—trans.] went to eat at that "house," even though each tent was open for those from outside to eat as well.
This was a type of basic welfare based on the mutual aid of the village. In this instance it expanded from being based on a community in which people recognized one another to one in which the basis was instead a provincial identity.
Simultaneously, a large number of Bangkokians, including both low-level to mid-level workers, joined the protests and offered assistance. This included  motorcycle taxi drivers, owners of small groceries, and salaried workers. Even though they had never met before, they felt as though they were one with the red shirts from the countryside. To put it another way, they possessed a consciousness of fraternity of the nation.
The reciprocity among those in the protests arose naturally, both in the time of the red shirts and in the present. Despite not knowing each other well beforehand, sharing political views and, importantly, facing dangers from the state together, facilitates the emergence of feeling warmth towards one another almost from the start.
I do not hold reciprocity alone to be equivalent to fraternity in which the demands, concerns and dreams expressed indicate an awareness of the (imagined) brothers and sisters in the (imagined) community of the nation. Such awareness is a powerful force.
Students from Triam Udom School, Bodindecha School, Suan Kularb School, and others, more than 80% of whom have the opportunity to be admitted into state universities, express concern for their (imagined) friends in (imagined) rural schools and dream that they will receive the quality education that they want. This is what demonstrates a wholly different consciousness.
The current people's political movement has changed Thailand to such a degree that there is no way for things to return to the past, no matter how this movement ends. My view is that this transformation has resulted from the expansion of a consciousness of fraternity that has become a real, live national fraternity.
Fraternity causes the freedom that we demand to not only be my freedom. Equality is not my desire to be equal with those higher than me, but the freedom of everyone to have equal rights and opportunities.
A consciousness of fraternity, freedom, and equality has once again, since 1932, been revived. Within this context, the ugliness of Thai society that we have been taught to close our eyes against has once again become distinctly visible. Education based on authoritarian relationships, state policies that helped the strong take advantage of the weak until a repulsive disparity emerged, the seizure of public assets to service the interests of a small number of people (there is not even a skate park for people to use for free), and public services that obstruct disabled people are all visible.  One's freedom to choose on matters such as gender, pregnancy, and all preferences, even art, does not receive acceptance. No need to mention any provisions of respect for one another.
As I already mentioned above, it is not that these terrible things were not present in Thai society before. They have always been there but we refused to see them. The growth of a consciousness of fraternity has opened the eyes of Thais, who now view the impoverishment of the country, which belongs to everyone equally, with panic.
In such an atmosphere, it is normal that the privileges that have remained secure have caused a great deal of consternation.  The national budget has been analyzed as a whole and in individual sections to query possible misuse. Given the degree of problems in Thai society, has the budget been used appropriately? Have the military budget, the budget of the Royal Household, the general budget, the budget of independent organizations (both those in the constitution and those not) been used appropriately? No answers have been provided to these questions.
The business monopolies whose profits are sky high, the privileges of some to be above the law, and the extravagance seen everywhere, which half of the country once saw as ordinary, natural, and legitimate, have now come to be widely viewed as offensive in a way not seen before. 
As long as fraternity, freedom, and equality are in the consciousness of a large number of Thais, such matters will become increasingly offensive until they lead to a violent explosion.
The more the disparity is suppressed, the stronger the explosion will be. Such an explosion will not only destroy that which is terrible, but that which is good may also be destroyed or lost.
In addition, it will not be easy to halt such an explosion. It is difficult to foretell how long in the future it will extend.
***
This essay was first published in Thai and published by Matichon Weekly: นิธิ เอียวศรีวงศ์, "ภราดรภาพ," มติชนสุดสัปดาห์, 15-21 มกราคม 2564.
Translated into English by Tyrell Haberkorn.
Source:
https://prachatai.com/journal/2021/01/91238