Submitted on Wed, 20 Jun 2018 - 02:51 PM
This World Refugee Day, Prachatai English investigates the discrimination faced by African refugees and migrants at the hands of the Thai police. Racially motivated arbitrary arrests and raids make daily life a constant struggle for Africans living in Thailand, who struggle to get by in deeply inhospitable conditions.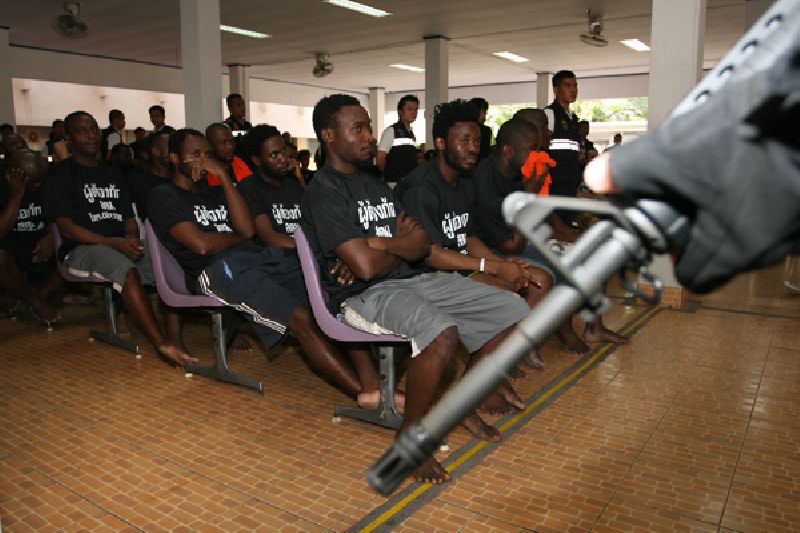 Detainees arrested and held by immigration police in Thailand during a massive crackdown at the end of 2015 in preparation for new immigration laws coming into place in March 2016. No sources for this article appears in the picture, however (Photo from Khaosod)
Last March, the Thai Immigration Police visited Henry's apartment six times. Henry is a Nigerian MBA student, with a valid student visa. "They accosted me on my way to campus", he said. "They went through my phone a couple of times during the harassment. They came into my room and searched through my wardrobes and desk drawers. They took photos of me and my room number". According to Henry, his room was "ransacked". Henry's crime? He says it is simply being a black African. "To me, this is nothing less than racism and harassment."
Then, last month, Henry says his apartment office rang his mobile and told him they could no longer have black Africans living as tenants in their apartments any longer. "They gave no other serious reason why they asked me to move out before my tenancy contract expired", he said.
Since Henry arrived in Bangkok in February, he and many other young African men who spoke with Prachatai English have faced unrelenting discrimination. In Bangkok, the estimated population of around 3000 Africans, some of whom are refugees, are an invisible minority. It is important to differentiate between migrants and refugees - migrants come to a foreign country by choice, for improved work or living conditions; refugees have been forced to leave their country for their safety. The reason African migrants and refugees have both been included in this article is because they report the same type of discrimination.
Almost totally unrepresented and unreported, they rarely appear in the Thai media. When they are covered in the press, it is often when they are arrested. Operation Black Eagle, which began last July on the orders of junta leader Prayut Chan-o-cha, is an attempt by the police to clamp down on African migrants committing crimes in Thailand. In July 2017, the leader of a raid where more than 80 foreigners were detained, described it as specifically targeting 'black people'. When Maj. Gen. Surachet, deputy commissioner of the Tourist Police Bureau, was questioned about the nationalities of the people arrested, he said they were 'Africans', before going onto specify most of them were Ugandan nationals.
The targeting of Africans drew criticism of the Thai Police. However, Deputy Police Spokesperson Kritsana Pattanacharoen denied that the Black Eagle operation was racist. "It's called Black Eagle, not black people," he told Prachatai English, and added, "it's not the only operation [the police] have been conducting; we have a lot of operations targeting illegal foreigners across the country".
Many NGO workers and migrants that spoke with Prachatai English stress that the deliberate targeting of black migrants does not begin or end with Black Eagle. Some even suggest Black Eagle is a publicity stunt. "It's for the media", one anonymous NGO worker said. Black people are an "easy target", for the press, he added.
The World Values Survey revealed that 39.7% of Thai people said they would not like to have neighbours of a different race. Given entrenched attitudes to people of different races, it is easy to see how generalisations could be drawn from negative press coverage of certain groups. In late 2010, the ILO TRIANGLE Project surveyed Thai people about their attitudes and found that 78% of respondents believed that migrants committed a high number of crimes and that 48% believed the number of migrants was a threat to Thailand's culture and heritage. Clyde Mazie, from the Ivory Coast, says "Thai people think we are all criminals".
The problem is, in the eyes of Thai law, many Africans in Thailand are criminals. Thailand, unlike 142 countries worldwide, is not signatory to either the 1951 United Nations Refugee Convention, or the 1967 protocol. This means there is no legal distinction between refugees and illegal immigrants. So, even after someone has fled their country and been granted refugee status by the United Nations High Commissioner for Refugees, Thai law still defines them as "irregular migrants" who can be subject to arrest at any point.
Hannah Macdonald, a spokesperson for the UNHCR, said: "given the sensitive protection context for all urban refugees and asylum seekers, the UNHCR does not comment on specific groups based on nationality or other distinguishing factors."
Macdonald outlined the situation for all refugees in Thailand. "[Thai law] considers them 'illegal aliens' who could be arrested and detained if they do not have valid visas. At the same time, as persons of concern to UNHCR, refugees and asylum seekers are protected by the principle of non-refoulement, which is customary international law" she said. This means, that while refugees cannot be protected from arrest while they are in Thailand, in principle, they can also not be deported to their countries if they would be in danger there. She also noted that the UNHCR "runs hotlines for emergencies like arrest".
However, the UNHCR faces funding shortages and is limited in what it can do. For example, Clyde Mazie said that when he was arrested, he made calls to the hotline but because it was after 6 pm, he was told to call back the next day, and subsequently had to spend the night in prison. As Evan Jones of the Asia Pacific Refugee Rights Network, put it, "refugees end up in a situation where they are pushed to the fringes of society, living in the shadows until they get arrested".
There is little understanding in Thailand of what a refugee is, or the fact that someone could be arrested and detained without committing a crime, (of course, being in the country at all is technically a crime for refugees), which arguably increases the perception of that migrants are criminals. Veerawit Tianchainan, the founder of the Thai Committee for Refugees Foundation, argues that the low levels of public awareness "have been choreographed by the government."
"Issues relating to public security can be linked to refugees," he said. "The government frames it in a way so people perceive refugees as a threat to their safety; that refugees are an economic burden".
There are a variety of reasons why people come from Africa to Thailand. Some, like Henry, are middle-class students who have come to Thailand for an education. Some are asylum seekers, from countries like Somalia or the Sudan, who are fleeing war or persecution. Some are economic migrants who have come for a better life, in the hopes of sending money home to their families. And some who come specifically to Thailand as participants in organised crime.
Across wide-ranging backgrounds, all of the African migrants who spoke to Prachatai English described the prevalence of daily discrimination in their lives in Bangkok. Lamin Ceesay, from the Gambia, says, "there is no variety in how they treat us. To Thais, we are all the same".
Clyde Mazie says "people cross the road when they see me coming. If there's a spare seat next to me on the bus, no one will sit in it". Peter (pseudonym) says, "people think Africans are dirty, that we have AIDs. People hold their noses when they see me passing them in the street. Taxi drivers won't collect me." James (pseudonym) says he believes Thai people think Africans are "dirty, poor, and have diseases". Lamin described an experience at the post office, where he tried to sit on the last remaining seat in the waiting area but was stopped by a post office worker who told him to stand at the back.
Many said they don't want to leave their houses because they fear the constant risk of arbitrary arrest and ending up in a Thai prison or an Immigration Detention Centre. Others told stories of constant subjection to "random" checks.
"Whenever I went into a farang bar, they would search my bag and no one else's," said Christian (pseudonym), an Ivorian who arrived in Thailand when he was seventeen years old and has since departed Thailand.
Everyone we spoke to says they always carried their IDs with them at all times, because they were often stopped by the police asking to see their IDs and visas. The penalty for not having a ID on your person is usually a fine, but for one of the men we spoke to, it was prison time. James said he spent 45 days in prison when his passport got stolen. Two others claim that they were held in police custody for over fifteen hours for not carrying the right documentation.
Five of the men we spoke to spent time in Immigration Detention Centres - some for up to seven years. Many said they had been stopped in the street by corrupt police officers who demanded "fines" to stop them from being taken to the IDC.
Many fear the police discovering where they live. After the police found out Christian's address they came to his house, claimed he had drugs in his room, and would only leave after he paid them a "fine". James, from Somalia, was detained at the IDC and spent two years there after the police came to his house and demanded to see his papers, which he could not produce. Deputy Police Spokesperson Kritsana, when asked about these allegations of police asking for 'fines', said he had not "heard of that particular issue before and if there were allegations to make against specific police officers then they could submit these allegations to the authorities".
And once Africans have been detained, the discrimination does not stop. Prachatai visited the Suan Phlu Immigration Detention Centre and spoke to inmates about their conditions. Several current and former detainees allege that the guards are violently racist towards the African inmates. Clyde said "they literally hated the Africans", and that they "were always quick to use force against us whenever they could", claiming he and other inmates were "beat with batons" while they were detained.
There are a disproportionately large number of Africans in detention. Inmates at the detention centres are sorted into rooms roughly based on race: for instance, at the Suan Phlu IDC, there is an 'Indian room' for South Asians, and a 'Vietnamese room', and an 'African room', amongst others. But while there are 140 people in the room for South Asians – of whom there are nearly 80,000 living in Thailand, there are 80 in the African room, out of a population of around 8000. Despite no definite link to police discrimination, it is striking to note that 1% of the African population of Thailand is detained in the Suan Phlu detention centre alone, compared to 0.18% of the South Asian population.
Conditions in the IDC are atrocious. Sources from inside the IDC, who cannot be named for their safety, told us about their conditions. Inmates share rooms, often with at least 50 others, with no beds or mattresses. Inmates often have to take turns sleeping or sleep standing up. Very few rooms have fans and inmates are allowed outside for a couple of hours every other day. Inmates may be detained indefinitely. Detainees include people who have overstayed visas, asylum seekers, and refugees. There are also families and unaccompanied minors in detention, although it is difficult to obtain figures on how many. Young children in detention are kept in the same cell as their mothers. When boys look "old enough", they are separated from their mothers and taken to the men's cell of their national group.
Several of the men who have left Thailand said they have flashbacks to their time in detention, and more than one described detention as traumatising. Inmates are given no access to proper sanitation. When speaking about the hygiene situation over the phone, one man, who had previously been describing his experience very calmly, even darkly humorously, went silent for a while. When asked whether he was still on the line, he apologised. "Some things…. I just can't speak about it", he told us. Christian described conditions at the IDC as "dehumanising".
Furthermore, if the government does not want immigrants in the country, the policy of arbitrary detention seems illogical. The government has long justified its harsh treatment of foreigners in the country without visas by claiming it is a means of deterring immigrants from entering the country illegally. If the Thai government really wants 'Good Guys In, Bad Guys Out', it is difficult to understand why they implement an immigration policy which literally imprisons 'Bad Guys' in the country.
Four of the people we interviewed ended up staying in Thailand much longer than they initially intended because they were detained. Clyde arrived in Thailand when he was 26 because his friend told him that getting refugee status from the UNHCR in Bangkok was easy. He thought he would be in Bangkok for a few weeks before being able to resettle in the United States. He was arrested for not having the right documentation and was detained for fourteen months.
The police spokesperson denied allegations of police targeting of Africans. 'I have not come across any discrimination against any races because we treat them all the same. It's not the profession of the police to treat people by a double standard' he said.
One NGO worker described collecting an Ivorian friend from a police station after he'd been arrested for not carrying the right documentation with him. "You're African?" a policewoman had asked him on his way out. When he nodded, she laughed and said, "we'll see you again then."