Submitted on Mon, 5 Feb 2018 - 04:41 PM
The number of signatories in an online campaign supporting the deputy junta head has dramatically decreased from almost 20,000 to 250 after Change.org detected the use of internet bots to boost numbers. 
On 5 February 2018, Warisara Sornpet, Director of Change.org Thailand, revealed to the media that the website had detected an attempt to manipulate an online campaign called "Supporting DPM Prawit for National Security and the 2018 World Cup." The petition had received over 16,000 signatories but the number was reduced to about 250 after the bots, computer programmes that do automated tasks were detected. The number of signatories was about 300 at press time. 
Warisara explained that Change.org has an automatic programme to alert webmasters to suspicious behaviour on the website. The programme detected spam on the third day after the pro-Prawit petition was created. 
"There was suspicious activity, such as many names coming from the same computer IP, or being signed very quickly, beyond what one person could do. We found that there was an intention to spin these names.  This could be illegal behaviour," said Warisara. "So we adjusted the list of names. Initially, it increased rapidly to 10,000 names. Now we have detected this, there are more than 250 names left."
The night before, various netizens stated that their name appeared without their consent as supporters of the petition pleading for Gen Prawit Wongsuwan to continue running the country. 
The pro-Prawit campaign was created following an anti-Prawit petition on Change.org which has gone viral for over a week. The latter petition urges the Prawit to resign and has generated over 60,000 supporters at press time.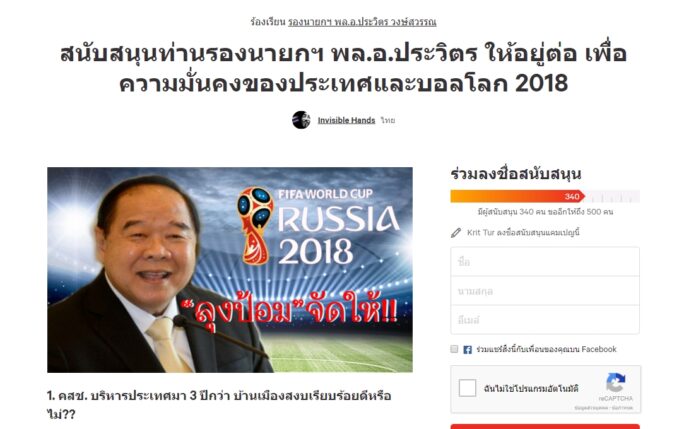 A screenshot of the petition