Submitted on Fri, 6 Oct 2017 - 03:34 PM
To break the taboo in Thai society surrounding the 1976 Massacre, a group of scholars have founded an online archive of the incident in the hope that Thai society will be able to learn from its bloody past.
In the early morning of 6 October 1976, Thai right-wing groups staged a massacre of students at Thammasat University. More than a hundred student activists were killed by military and paramilitary forces and right-wing mobs and over 3,000 were arrested allegedly for being communists and threatening Thailand's monarchy. 
Even though the incident occurred over 40 years ago, knowledge of the event is very limited, partly because it is a sensitive issue and the "Octobrists" (people who joined the student movements around 14 October 1971 and 6 October 1976) who survived the massacre have rarely talked about it in detail.
The incident shows that Thai society can be extremely brutal against those who think differently from the establishment. The fear of talking about the massacre is, therefore, strongly rooted in Thai society, preventing serious discussion and investigation of the incident.
But some have bitten the bullet.
On 24 September 2017
, the "Documentation of 6 Oct" project launched its website
www.doct6.com
at Chulalongkorn University's Faculty of Political Science. The website is an online archive of material and information related to the massacre which has been largely ignored by Thai society.
The contents of the archive include documentary films, witness testimonies, photographs and interviews with massacre survivors and the families of those who were killed. 
To commemorate the massacre, Prachatai interviewed Puangthong Pawakapan, the project coordinator. She hopes that this website will help Thai people to see a clearer picture of what actually happened on 6 October 1976. 
What's on the website?
Puangthong said that this project is funded by a small donation from a group of Octobrists and run by seven people. Six are the project committee, including herself and
Suthachai Yimprasert
, an Octobrist scholar who recently passed away, and the seventh is a part-time staff member. 
The project has collected over a thousand pages of testimonies by 224 witnesses and autopsy reports on 41 murdered student activists from the archives of the Office of the Attorney General. The project has also collected all newspapers published in September and October 1976 in order to show how the media at that time incited radical right-wing movements to take part in the massacre.
"When we talk about newspapers, people usually only talk about Dao Siam and the reports on the date of 6 October. But we want to show that the process of inciting the right-wing to attack the students is more than Dao Siam," Puangthong stated. "Therefore, we will scan every single page and column of every news outlet. We think they are crucial sources of information for those who study or research 6 October."
On 6 October 1976, Dao Siam published a story that deemed student movements a threat to the monarchy, inciting people to join the massacre on that day (Photo from www.doct6.com) 
The fear of recalling the past
But a task more difficult than collecting primary sources was to get witness interviews. Puangthong said that a number of massacre survivors no longer want to talk about the incident while some are willing to talk but ask to conceal their identity.     
"Some [survivors] who currently have a fairly good social status are willing to give us interviews. They allow us to publish the transcribed interviews but ask us not to publish videos that show their faces. They have asked us to keep them unpublished for now but never said for how long. But they are willing to reveal their names in written interviews. They might be guessing that Thai people just don't read." Puangthong joked.
Before starting the project, Puangthong also co-produced a documentary film with Phattharaphon Phuthong. The film is about the families of the massacre victims called "
Respectfully Yours
" which is also available on the doct6 website. 
She said that even ordinary people, who have neither a deep political knowledge nor high social status, also feel threatened when they talk about the massacre. So some informants refused to reveal their identity and only allowed her to publish their voices
"Even ordinary people, who have no deep understanding of politics, can feel that there's no accountability for the perpetrators. And they think that [the massacre] was somehow connected to the ruling power ... they can feel that there is a connection and this is fear." 
The film respectfully yours
"During the past year after I said I was starting this project, I met a senior journalist who witnessed the massacre. He is over 70 now but still working. He warned me to stop. He said it's dangerous. It's a story that no one wants to talk about. He didn't explain why he was afraid but we all know that this is a sensitive issue. "
However, there are some silver linings. Puangthong stated that after she announced the start of the project last year, some Octobrists who have never written about the event contacted her and offered to share their experience. Other people who had interviewed victims or their families also sent in their work to be stored in the archives. The project has been able to reached families of 20 out of 41 murdered students so far.
Memories of the massacre victims on doct6 website
Why does memory matter?
Puangthong is deeply interested in 6 October even though she did not experience the massacre at first hand. She was only in grade 7 when it happened. But she was interested by the fact that Thai society totally lacks knowledge of its own bloody past.
"Professor Thongchai [Winichakul] told me last year that there was more than one individual hanged on that day. He believed that there were at least two or maybe more. He wasn't sure. I was shocked because this should be basic information. The Octobrists should have known this for long time. Why has no one ever talked about this during the past 40 years?" 
So how many individuals were actually hanged on that day? After thoroughly investigating footage and photos of the incident, Puangthong and Phattharaphon found that "at least" five people were hanged and only three of them can be identified so far. In addition, one unidentified female body was sexually abused. Four students were set alight and cannot be identified as their bodies were burned to the bone.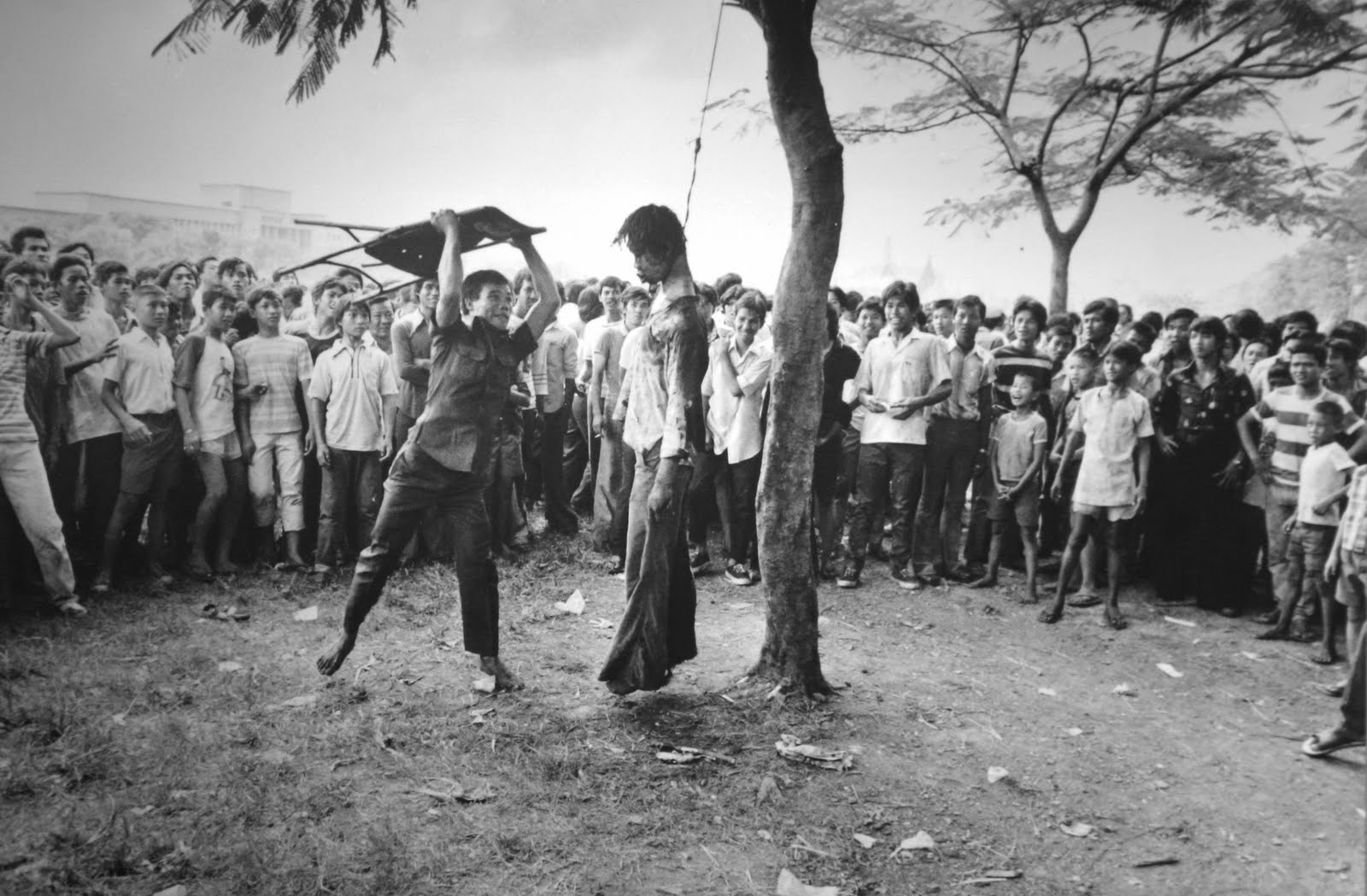 An unidentified student was hanged on a three at Sanam Luang. This photo has later become an icon of the 1976 massacre (Photo from AP)
Puangthong added that this information is not a new finding at all. The evidence in this project has been available online and Thai people have already seen it but no one has ever tried to investigate it seriously.  
"This project emphasizes that facts and information are much less important for Thai people. In the case of 6 October, even the victims or the Octobrists don't care much about information on the dead and their family. We talk about the victims in a very superficial way."
No memory, no individuality
Puangthong argued that the lack of knowledge about the 6 October indicates that the concept of individuality is very unimportant for Thai people and this is a reason why human rights cannot prosper in Thai society.
"When we talk about individuality, we talk about the value of an individual to the people surrounding them. They have a family and opportunity in life. What could they be if they were not dead? What did their families expect them to be? Or what do they mean to their family? Talking about these things can make people feel and respect human rights. We have to make people in the society feel the pain of the loss of others." 
Puangthong hopes that this project can help society to see what exactly happened on 6 October 1976. Thai society usually describes the incident merely as state violence, an explanation which is too superficial. For Puangthong, what happened on that day can be called a "carnival of violence" where ordinary people enjoying killing other human beings.
"Imagine that Sanam Luang at that moment was like a carnival of violence where people were enjoying violence. There might be over a thousand people joining in that carnival...I want people to get this picture and I think that the majority of people in society haven't got this picture"
Puangthong added that she wants to further develop this website into an information hub of the 6 October massacre. She wants to store all footage of the incident on the internet at this website and guide readers to where they can find other offline primary sources. But due to limited resources, these activities can only be done in the distant future.
However, even if the website successfully becomes a perfect archive, Puangthong concedes that 6 October will be taboo in Thai society due to its "sensitivity". And this sensitivity prevents society from seriously discussing its bloody past.
"It is something most media don't want to talk about since they know that it's sensitive. When they talk about the 6 October, they merely say that it was state violence and just that. But who was the state? Who were involved in state power at that time? We cannot discuss further than that. It's the limit of talking about 6 October."