Submitted on Fri, 29 Sep 2017 - 07:30 PM
While attempts have been made to remove the memory of the 6 October massacre from Thai society and the timeline of history, a website has been created with the goal of archiving the event. 
On 24 September 2017, the "Documentation of 6 Oct" project launched its website
www.doct6.com
at Chulalongkorn University's Faculty of Political Science. The website is an online storage of material and information related to the massacre of student activists on 6 October 1976 which has been largely left forgotten by Thai society.
The massacre occurred at Thammasat University where more than a hundred student activists were killed by military and paramilitary forces and over 3,000 were arrested for allegedly being communists and threats to Thailand's monarchy. 
Project coordinator Puangthong Pawakapan said that even though the massacre occurred over 40 years ago, evidence and sources about the event are very limited because it is a sensitive issue for the ruling elite. The website, therefore, aims to collect as much footage, evidence and witness testimony as possible so that Thai society could learn from its bloody past.
"We often say that Thai society should learn from 6 October in order to prevent such incidents in the future. I think we cannot learn much because until now basic information is still confusing. So we should have more knowledge about 6 October than just saying that 6 October was state violence," Puangthong stated.
Puangthong added that the project emerged to compete against the political elite's attempt to remove the event from the Thai people's memory. She also hoped that this project can help to fight for justice for victims of the event in the future.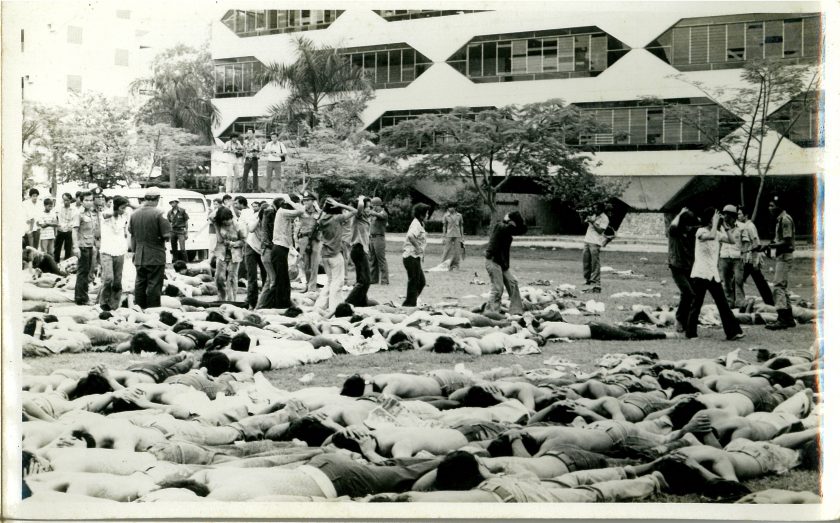 Security officers force student activists to lie face down on the football field on 6 October 1976 (Photo from 6doct)