Submitted on Thu, 16 Mar 2017 - 02:10 PM
The police have revealed that they have arrested a 14-year-old disciple of the Dhammakaya Temple for protesting against the junta's use of Section 44 to tighten control around the Dhammakaya complex.
On 15 March 2017, police officers of Khlong Luang Police Station of Pathum Thani Province confirmed to Prachatai that on 8 March they arrested a 14-year-old disciple of Dhammakaya Temple, whose identity is withheld due to privacy concerns.
After the arrest, the police took him to the local Juvenile Observation and Protection Centre (JOPC). He is still detained at the JOPC at press time according to Thai Lawyers for Human Rights.
The police arrested him for holding a banner to protest against the junta's use of Section 44 of the Interim Constitution to declare Dhammakaya Temple a 'controlled zone', granting security officers the authority to search buildings and make arrests in the search for the former abbot, Dhammachaiyo.
The father of the young disciple attempted to bail him out on the afternoon of 10 March. However, the Pathum Thani Provincial Court denied bail, reasoning that it was not the working hours of the court.
On 13 March, another bail attempt was rejected as the court reasoned that the name of the father was not the same name as listed on the detainee's birth certificate.
On following day, the mother of the detainee travelled from the northern province of Chiang Mai to submit another bail request. The court, however, denied bail again, reasoning that the parents of the detainee are living separately and do not seem to be able to raise him properly, so he should be taken care of by the JOPC.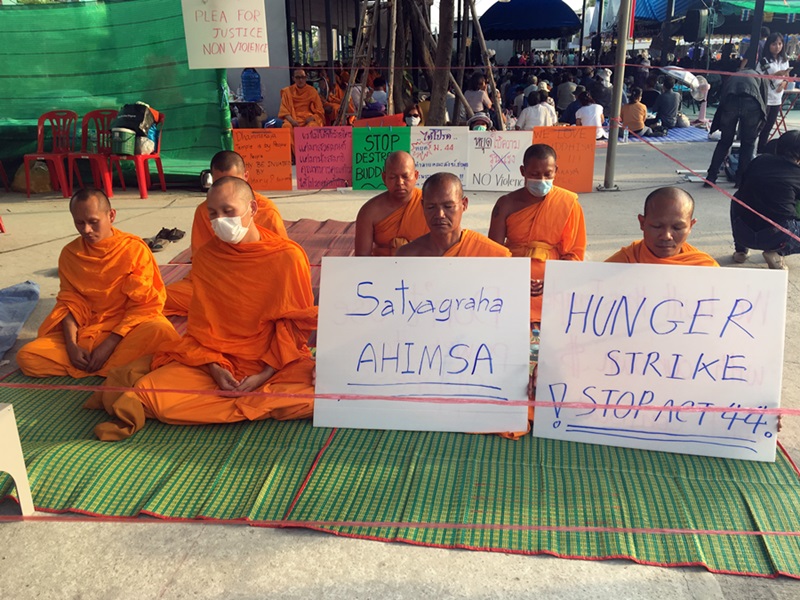 Seven Dhammakaya monks stage a hunger strike against the authorities on 22 February 2017 (Photo from Matichon Online)