Submitted on Thu, 15 Dec 2016 - 05:28 PM
More than 300,000 Thais have signed a petition opposing the new Computer Crime Bill that will allow greater government control over information online. 
On 15 December 2016, representatives of the Thai Netizen Network (TNN) and Amnesty International (AI) submitted the signatures to the President of the National Legislative Assembly (NLA), the junta-appointed law-making body. The petition demands that the NLA review and amend the draft Computer Crime Bill that will be discussed on 16 December, 
reported
 BBC Thai.  
The new bill will give the state more power to suppress online content deemed defamatory to the monarchy or a threat to national security. The law also obliges internet service providers (ISPs) to actively monitor content distributed on their platforms, under the threat of half the penalties imposed on those who publish illegal content through their service. 
Further information on the bill can be found 
here
.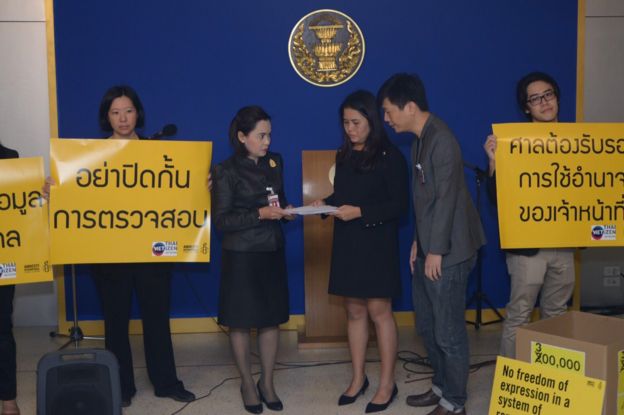 Wararat Atithep of the Senate Secretariat receives the signatures from representatives of TNN and AI 
(Photo from 
BBC Thai
)