Submitted on Fri, 8 Jan 2016 - 04:30 PM
Military and police officers have reportedly intimidated leaders of the Thai Labour Solidarity Committee (TLSC) several days after the committee investigated the detention of labour union leaders of an electrical appliance company.   
Yesterday, on Thursday, 7 January 2016, Wilaiwan Saetia, president of the TLSC, reported that 4-5 military officers both in uniform and plainclothes followed her from the factory that she works to her house.
She said that the authorities' action intimidated her and the staff at her workplace.
Yongyut Mentapao, Vice President of the TLSC, today also reported that he had been followed by military and police officers from unidentified units.
He filed a complaint at a police station about the intimidation after the incident.    
She said that the officers followed her after the TLSC investigated the detention of Chalee Loysoong, TLSC Vice President, and Amorndech Srimuang, leader of the labour union of Sanko Gosei Technology Ltd., an electrical appliance manufacturer in the eastern province of Rayong, on Tuesday, 6 January 2016.
The two were detained by police officers at the Ministry of Labour in Bangkok for about four hours after they led about 500 Sanko Gosei workers to the Ministry to ask Gen Sirichai Distakul, the Labour Minister, for assistance in negotiating with Sanko Gosei.
In addition to detaining the union leaders, the police reportedly threatened them with charges under the Public Assembly Act.
On 20 December 2015, Sanko Gosei closed its plant in Rayong province. After the closure, employees of the plant camped out in front of the factory. Five days later, however, on 25 December 2015, the owners of Hemaraj Industrial Estate where the factory is located, obtained a court order to force the Sanko Gosei employees to leave the factory.  
On Thursday, 7 January 2016, IndustriALL, a global labour network, condemned the detention of the two labour activists, saying that the Thai government should instead have provided assistance to the group.
Jyrki Raina, the Secretary-General of IndustriALL, also expressed concern about the use of the Public Assembly Act to discourage labour unions from staging rallies.
"We are gravely concerned that the government is using the Public Assembly Act to curb the legitimate rights of workers to gather peacefully," said Raina. "This goes against all norms and international standards."         
"Criminalizing and arresting trade union leaders is not going to resolve this dispute. The arrests are particularly disappointing considering our positive meeting in December at which the Permanent Secretary to the Ministry of Labour said the government shared IndustriALL's will to protect the rights of workers," added Raina.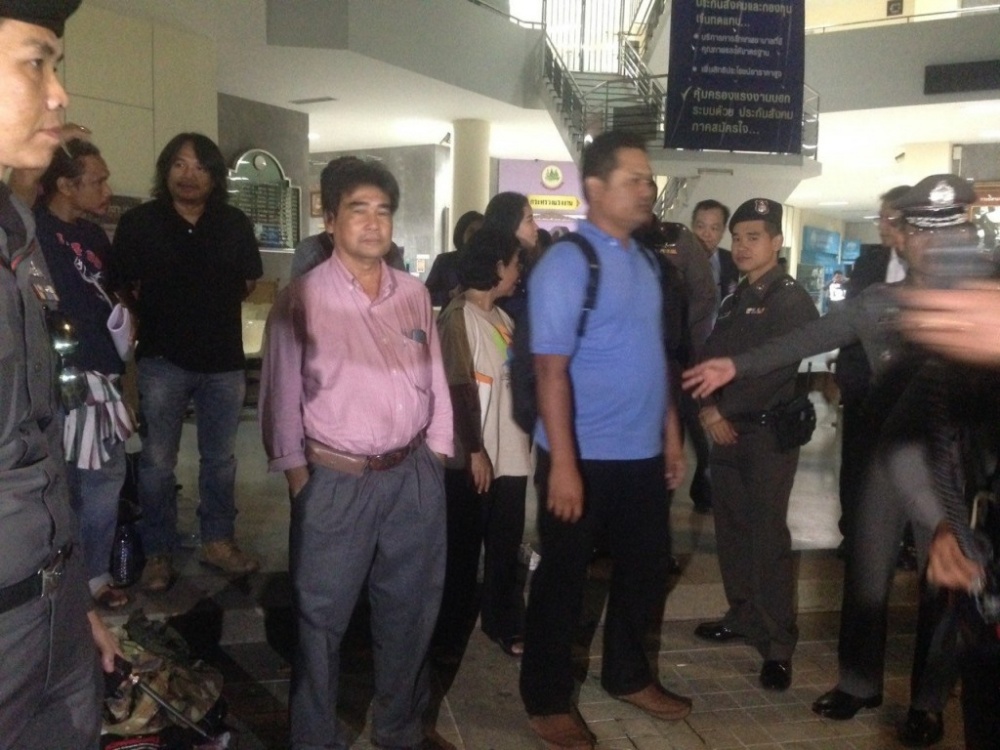 Chalee Loysoong and Amorndech Srimuang at the Ministry of Labour on 6 January 2016
500 workers of Sanko Gosei who came to ask for assistance from the Labour Minister in Bangkok on 6 January 2016 over the loss of their jobs