Submitted on Thu, 9 Jul 2015 - 04:43 PM
Freed anti-junta activists from the Dao Din group talk to Prachatai about their experience in jail and how they learned about the value of freedom.
On Wednesday 8 July, the 14 anti-junta activists from the New Democracy Movement (NDM) were released after being detained for 12 days as a result of their peaceful anti-junta protests. The charges against them still stand. 
Prachatai talked to seven student activists from Khon Kaen University about their life in prison and what they learned behind bars. They had all had their heads shaved in protest at being separated inside prison, but their determined gaze was still unwavering.
During our talk, the activists who were waiting to be interviewed wandered off to play soccer. It was probably their first match together after being released. 
"Noi" - Apiwat Suntararak
What was life in prison like?
When I first walked in and saw the high walls, I was worried that what I had heard about prison was true, that it was just gonna be full of criminals and gangsters. We arrived at 2 am after we were arrested, and the wardens took good care of us from the first day.
When I woke in the morning, though, I was shocked at how everyone showered together, and I was too shy so I didn't shower at first. The bathroom is really low, you have to sit down and stick your head out. There's a guard watching the whole time, so I felt really pressured. There's also a lot of people lining up for the bathroom so you have to do your business real fast. 
After a while we were separated into different zones of the prison. I was put into zone 3 with Pai and Triangle [Base's nickname]. They still took good care of us. The warden was vigilant but nice. He let us stay in a room with 11 people. The lights were always on, even at night, and it hurt my eyes and I kept waking up. It was also hot and crowded. 
I also started to see what friendship between inmates was like. Wherever I walked, people would greet me and ask how I was. They found sleeping arrangements for each other. On the first night I was there, I saw that when an inmate had no place to sleep, another would share his cot. 
Some inmates don't have any relatives, so their life is really hard. They have to work really hard to trade for food and other stuff. For example, they might do someone's laundry for a week in order to get a single cigarette.
Inmates also make a lot of stuff in there, everything from birdcages to paper bags. They're really beautiful and well-made, actually. We share the work. The sweets made in there are also really good. Zone 3 sweets, I guess, only available to a select few. They're sticky, chewy, wrapped in paper, and very delicious.
Did you get to meet other political prisoners?
No, I don't think so. Mostly I met those in robbery or murder cases. I don't think they're evil people; they're just regular people who made bad decisions at the moment, which ruined their lives. One of the inmates I talked with regularly told me his story. He went out to help a younger friend in a bad situation, and accidentally killed someone. He had just finished university and didn't know what he wanted to be yet. There's no one who is completely evil; society just needs to give them a chance. Most of the released inmates are rejected by society and they can't find a job, so they go back to doing what they did before, and end up in here again. It's a vicious cycle.
There's this other guy who's tattooed all over. It doesn't mean he's a bad guy. He's actually really goofy. 
After the court said we would be released, all the other inmates were like, "You guys are going already? It'll be lonely here without you."
How did you feel when you came out to see your friends waiting for you outside the prison?
I wanted to cry, I was so happy. They've been fighting for and encouraging us from the outside the entire time. Fighting from the outside might be even worse than being in jail. They helped us with whatever they could, whenever they could. They brought so many gifts for us too. When I got to see their faces my heart was so full.
Anything else you want to say? 
We're confident we did, and are doing, the right thing. There might be both people who support us and people who don't, but we still believe that our society should be free and our five values should be re-established in society. 
"Arty" (Chusri) -  Supachai Pukrongploy
I was moved to Zone 5 with Rome and Nui. That made me feel really lonely. When all of us were together it was a fun team atmosphere, so I felt devastated when we were separated. I lived for the 20 minutes a day when I got to see the others and our visiting relatives. Twenty minutes a day to sustain me. 
I was put in the area towards the front of the Zone. The prisoners from different Zones would eat together. I think Zone 3 operates like a socialist state, with the wardens doing whatever job they are most fit to do. Wardens get social welfare benefits, food, shower facilities, and equal pay. Of course, there's a lot of marginalized prisoners who don't have anyone to visit them. 
As a law student, what do you think of political prisoners in jail?
It's a normal thing in our polarized society. Of course they'd get jailed. Their freedoms are restricted. They're not criminals in the sense that they did something violent like killing, raping, or stuff like that. They're prisoners of conscience. If they're gonna continue having this law, they should have a separate prison for political prisoners. In there, they're treated the same as the rest of the other inmates in a way that's way too violent for people who just think differently. 
How did you feel when your friends came to pick you up from prison?
Only then did I really appreciate the value of freedom, after being in there for 12 days. I felt freedom as a tangible thing. 
I profoundly understand what liberty means after I was there for 12 days. The experience of life without freedom is very concrete. My mom came to wait for me. I'm touched. I was surprised that there were so many media. I believe we were released because I have fought for grassroot activists who are oppressed in the villages. There's a clear picture of what we've done. Today we're oppressed; we really felt it during the past 12 days. My feeling is even stronger when we're separated. We really feel it now that we're freed.  
I'll keep reminding myself of this: no matter how much my freedoms have been suppressed in these last 12 days, I learned that my ideals could be transformed into tangible things. And the ideals that I stand firm in can't be stopped by fear. 
I'll keep on fighting. It's a beautiful thing, is freedom. 
"Pai" - Chaturapat Boonyapatraksa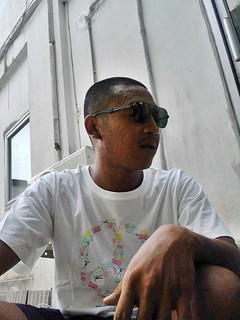 How do you feel now that you're released? 
It was wrong for me to be punished in the first place. It's an issue of expressing differing opinions. Society is full of different people; it's impossible to force everyone to think identically. If there are people who think differently from you or from the state, they shouldn't be punished for that. They wouldn't become political prisoners, but prisoners of conscience. 
It's really important that people be more open-minded, listen to reason, and look at the facts before making up their minds. People are capable of seeing what's just and what's not, what's true and what's not. Different kinds of thought must be allowed to circulate in society, and then after that they can make up their minds however they want. 
Jail is for people who broke the law, not for prisoners of conscience. The only tool a tyrant has against them is to physically bar them from communicating with society.
Did you exchange any ideas from the other inmates?
Yeah, but I can't say it to the press. They have valuable ideas which society should hear. But since these prisoners are locked away, their ideas are too. 
What were living conditions like after you moved from Zone 1 to Zone 3?
At first we were in Zone 1. I tried to adjust myself but I really couldn't. It was the lack of freedom, realized in a physical form. 
I'd say that being inside and outside the jail are no different. They really are not different. Having us in jail helps to prove my point. 
Now that I've experienced both sides, I say that even more. On both sides of the bars, we have to stay inside a square box. 
They took really good care of us since the wardens were informed that we were special prisoners. They fenced us off from the rest of the Zone and let us shower after other inmates.
We assume that inmates are the scum of the earth, the bottom of the barrel. But inside, it doesn't matter who you were before, everyone's equal. Underneath the tattoos and uncouth manners they still have the beauty of their humanity. Each human will always retain that beauty, but society often taints it. 
All the inmates have their beautiful humanity, and I could see it. They were kind to us, took care of us. 
You guys were put in the front part of the Zone instead of the back, could that be part of why the jail society wasn't so bad?
When I went for a smoke, other inmates would come up and talk to me, asking me what I was arrested for. We would exchange our cases. They're even more knowledgeable than judges regarding legal cases. They can tell the sentence just from hearing a case of an alleged crime. 
They've got first-hand experience, that's why. As a law student, I think that judges should come and experience life in the jails, so they know what happens after the sentence is doled out, what the prisoner's life will be like. The Thai judiciary system is focused on punishment, and some people shouldn't be in jail at all while others carry sentences that are way too harsh.
I was glad to be with the other 13 in Zone 1. It raised our morale, and we exchanged jokes and laughs. We also held meetings to monitor our situation. Then they separated us, it was to weaken our resolve and perhaps force us to beg for bail. They didn't succeed, however.
We were in separate zones but our hearts were connected. Come what may! We don't need bail. That's what held us together, even as we were far apart. 
Any other comments?
Jail isn't a scary place, just a boring one. Don't be afraid of it. I want everyone to experience it just once. Being in jail is just a prerequisite for fighting righteously against the NCPO. If we fight, then we get jailed. 
But jail isn't scary at all.
The real scary thing is if we let the dictatorship—as well as the cultural strains that permit it to stay—to continue its tyranny in Thai society.
Asaree Thaitrakulpanich, Yiamyut Sutthichaya, and Narisara Suepaisal contributed to this report.
Read Part 2 of the story
here